This is an old Victorian style town doll house made in the late eighteen hundreds, and is currently located in Kate Palmer's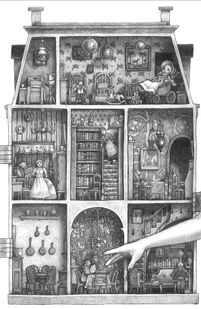 bedroom. In this house lives
The Doll Family
, and was made especially for them. This house has three stories. The first story holds the kitchen, dining room, and parlor. The second floor includes Mama and
Papa Doll
's bedroom, the library, and
Auntie Sarah
and
Uncle Doll
's bedroom. The top floor includes
Nanny
's bedroom and the children's nursery.
The family never left the doll house willingly (excluding Auntie Sarah), until the arrival of the Funcrafts in 2001.
In the Wilson & Sons Catalogue, it is item number 26118. and is described as: High quality. Front-opening doll house with brass hinges. Two chimneys. Eight rooms. Heart-shaped lock keeps dolls securely inside. Price.....$13.00
Ad blocker interference detected!
Wikia is a free-to-use site that makes money from advertising. We have a modified experience for viewers using ad blockers

Wikia is not accessible if you've made further modifications. Remove the custom ad blocker rule(s) and the page will load as expected.